Barbados & Eastern Caribbean Weather
Information on Tropical Disturbances, Storms, Hurricanes
Real-Time Satellite Imagery, Weather Conditions, Radar, Lightning Detection and more ...
---
Any donations would be appreciated (click here please and thanks)
Also, go to Barbados Weather Watchers on Facebook for more info., discussions, etc.
This web site and the equipment - Satellite Imaging, Lightning Detector, etc. - maintained by me requires constant funding. Virtually all has been done by me over the years since 1990, but I can no longer do so, therefore donations are needed and much appreciated.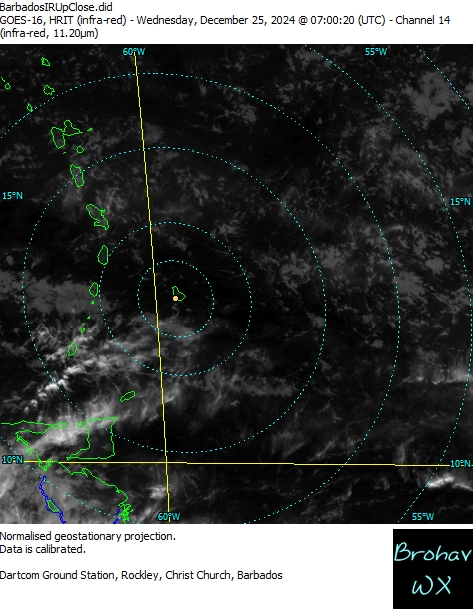 ... Since September 01, 2010 here on Brohav WeatherFax in Barbados
To send any comments or questions please click here... Contact me
Disclaimer:
Please note that the content of this web site should NOT be taken as an authority of Meteorological Information or Weather Forecasting.
The main purpose here is to present information for any interested persons to make their own judgments, at their own risks, therefore no liability will be accepted for any actions taken based on the data, information, commentary and/or opinion found herein or from any of the off-site links found on this page. Please check with local Meteorological authorities first before making decisions!
© 2000-2023
Brohav WeatherFax Services
Web Master & Operator: David G. Brooks
Brookhaven, Rockley, Christ Church
Tel: (246) 436-1417 or 230-5333
Barbados, West Indies